11 (Do-It-Yourself) Home Improvement Marketing Strategies
We are going to discuss several home improvement marketing strategies from a perspective of online presence. As you are already aware, it is getting harder and smarter day by day to promote your home improvement services. The competition is everywhere and that is the truth of the market. There is nothing demotivating than losing jobs to your competitors.
The way we do marketing has changed dramatically in the year 2019.
Nowadays, you no longer can rely on Yellow Pages, Newspaper, Cold calling, Expensive radio and TV commercials which you cannot track. If you cannot track your marketing campaign, then you cannot tailor your marketing strategies to suit your audience.
The truth is that if your company do not adapt to the ever-changing marketing strategies and ideas, you'll be left behind.
Current Day Digital Statistics
Before we jump in, We would like to make you aware of the current statistics. This can also act as a reason why you should opt for inbound marketing.
81% of the shoppers conduct online research before making a buying decision.
65% of people click on Google Ads when they are looking to buy online.
76% use their Facebook feed to find interesting content.
70% of retargeted visitors are more likely to buy from your site.
57% confirms that they get influenced by positive reviews about a brand online.
52% of people say that blogs have influenced their decision.
60% of businesses say that their branded blog content has helped them to attract customers.
Few other traditional statistics:
86% of people skip television ads.
75% do not accept advertising as truth.
44% of direct mails are never opened.
With these statistics, you have no choice but adapt digital marketing for your brand.
This guide has been put together after hours of research with an aim to help home improvement businesses get into the market effectively and achieve desired goals.
The information contained herein combines my 15 years of experience in the digital world. Helping businesses just like yours along with the research compiled from various studies and few sources from Google.
I've summarised the techniques and topics that are working the best as at today.
Home Improvement Marketing for Which Businesses?
The information mentioned here is ideal for businesses that are performing following home improvement services:
| | | | |
| --- | --- | --- | --- |
| Kitchen renovation | Interior decoration | Plumbing & gas trade | Double glazing |
| House construction | Bathroom renovation | Architect | Concrete & Masonry |
| Roofing | Waterproofing basement | Electricians | Painting |
| Landscaping | House maintenance | Laundry renovation | Tiling services |
| Carpentry | Fabrication | Door repairs | Drywall repairs |
The first step is to understand the marketing techniques and strategies that your competitors are using today. Things have changed drastically and it will continue to change.
You have to be proactive to adapt to these changes and welcome new ideas that can put you and your business in front of your potential customers.
Before we begin, we would like to tell you that you are lucky enough to get a great opportunity and more customers because the internet has become a boon for small and medium businesses.
You do not need a massive budget to compete with brands and you do not need to rely on offline marketing techniques either from where you are unable to track your marketing campaign.
Many of your competitors (95% of them) are now relying on getting leads and customers through digital marketing.
Whether you like it or not, you'll have to get into the online marketing arena to explore the opportunities that are present online.
You will have to adapt to the change.
Below is the explanation of the techniques and ideas in details on how home improvement companies can use online marketing to get leads and customers online.
You can start implementing following home improvement marketing ideas today and start seeing inbound leads within few months.
Like a good wine, which gets better with age, your online marketing techniques and work get better as they age.
Regardless of your work, you are already aware that your customers are not only looking for the quality of your work but also benefit that they get from it.
Few people use home services to get comfort and safety, others for maintenance and repair, while few just to increase the value of their property.
No matter their intentions, you still have to perform and please them to get better reviews and reputation.
Considering these basics in mind, let's start.
1. Customer Avatar
You might be aware of customer avatar. It is a fictional character of your potential customer. You decide who you want your customers to be.
If you are in the fencing or bathroom remodelling business, then you may want to have your customers to be of 35+ years of age, home owners, living in a specific suburb or a city, etc. As a matter of fact, it is nothing but buyer's persona.
Creating a buyer's persona will help you understand your potential customers, their needs, their fears, belief and secret desires that influence their buying decision.
Without your customer's avatar, you may not be able to proceed in the further task. If you have no idea who your customers are, then you cannot relate your product with buyers.
Let's face it – you cannot sell your product to anybody and anywhere. If you are a small business and need marketing then you must define your buyer's persona.
Every business will have their own buyers profile and so is yours.
If you are an architect, your buyer's persona would be different from the ones of a carpenter.
It's easy for you to create an avatar – Download the PDF from this link and answer few questions, you'll have your customer avatar ready.
2. Keyword Research
Once your avatar is ready and you know who your customers are, then we can proceed with the keyword research.
Keyword research is a process of identifying and finding the key phrases that users will type in search engines to discover your website or services. Without appropriate keyword research, you will have very thin chances to appear in front of your potential buyers.
Google has provided their own tool – Keyword Planner – to discover various search terms within your industry.
In most situations, the best keywords to go after would be "city" + kitchen renovation, "suburb" + fencing contractors, roof repairs + "city", interior designers + "city", etc.
In Keyword Planner, you'll be able to find out the number of searches for each search term. Start with the smallest number and then target the ones with higher numbers.
Start small because you'll have less competition in ranking for those terms.
Once you start ranking for few keywords with lower search volume, then start targeting the keywords with higher search volume.
With just this little strategy, you'll be able to understand what your prospects are typing into search engines to find businesses like yours.
You'll be able to boost your site's authority and traffic by using this strategy in your marketing campaign.
3. Competition Analysis
Once you have your avatar ready and have done the keyword research, it is time to analyse your competitor's websites. We analyse their digital presence because we want ourselves to be better than them. Excel over what competitors are doing.
[easy-tweet tweet="We do not have to be best but just a little bit better than our competitors." user="AkvitekDigital" hashtags="#Akvitek" url="http://akvitek.com.au/home-improvement-marketing/" template="light"]
Type in the keyword, that you have discovered in Google and find who are your top competitors. Go through various home improvement websites.
Peruse through their site and observe the structure of their website, the navigation they have used, what home services do they provide, how have they structured their site pages, what kind of content have they written, is the content benefit driven or features driven, what kind of call to action have they used, how is their social media presence, do they have blog posts on their site, do they keep in touch with their clients, do they capture email addresses of their prospects, etc.
Analyse three to five websites for main keywords. You'll discover common things that you could put in place on your website.
Perform competition analysis to ensure you are following the leaders within the industry.
Replicating the things that they do to outperform others, is the way to go.
4. Content Development
Upon analysing and comparing competitors' websites with yours, you will discover that there is a need for content modification. You'll have to hire an SEO agency or a freelance SEO copywriter to accomplish it.
To become an authority amongst the other home improvement businesses you need to keep updating your website.
Write blogs that provide information about your products and services.
Do not take short-cuts and write 150 words content. It will be of no use and will serve no purpose. The key is to provide a solution to your prospects.
You need to create a 'content asset' that remains evergreen. Provide value to the readers every time they read it.
As an example, you may come up with an idea to write on topics such as follows:
The complete guide to finding a qualified kitchen remodelling company in Melbourne
5 Reasons why you need fencing if you are living by the sea.
8 Reasons you are paying higher for your interior design in Melbourne.
Such topics provide a sense of solving a problem for your potential customers. When they read your guide, they'll be overwhelmed with the information you provide therein and you become the authority in the market.
Your content should be within your niche and provide a solution.
Do not over promote your services through the blog posts.
You might wonder that how writing blog posts drive more sale?
Isn't?
Well, it is an act of persuasion and influence.
They will buy from you because you allowed them to make that informed decision. Educate your prospects and they will love you. Every industry has some level of complexity that not every individual would understand. That is where you come in and explain. Make things simpler for them to ease their buying decision.
One more thing you need to understand here is that your site visitors are not going to buy as soon as you publish your blog post.
In home improvement niche, studies have shown that users take 108 days to make a buying decision as compared to other niches.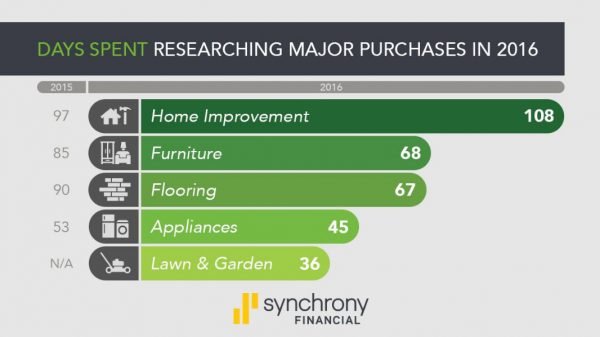 This means that on average users take around three months to decide on who to hire.
There are three aspects of providing them with a free solution. Reciprocation, Liking and Authority.
In an act of reciprocation – you are obliged to pay back because you got something free.
In this case, if you are providing a free solution, advice or reasoning to make themselves informed better, then you will be paid off by either an enquiry, sharing of your content or referring you to their friends who need your home services.
Once they reciprocate, it psychologically means that they have liked you. People are more likely to buy from the person they like.
When you publish great content on your site, you become an authority and people start trusting you.
Content is the best part of digital marketing strategy for home improvement businesses.
5. Search Engine Optimisation
85% of people searches online for their requirements which mean your brand need an online presence.
Once you have created the content, it is time to get some eyeballs on your content. You need visitors to visit your website.
This can be done through search engine optimisation. It is a technique where you optimise your website to suit certain usability criteria devised by a search engine to improve rankings and increase awareness to drive traffic.
SEO is vast and it takes time. It is a process which you will have to continue for some time (3+ months) to achieve improvements and results.
SEO can start ranking your site higher in search engines for certain chosen keywords. Hence we did keyword research earlier.
You'll have to infuse your chosen keywords in the content that you write for your service pages. You also need to build backlinks to increase your site's authority and trust.
Few basic SEO tactics:
Optimise your homepage for your main keyword and write appropriate content for it.
Build more landing pages for your secondary keywords. E.g.You could optimise your homepage for Melbourne based kitchen renovation terms and build extra landing pages for suburbs such as "Oakleigh Kitchen Renovation" or "Ringwood bathroom renovation", etc.
Do not over optimise and stuff your keywords all over pages. Ensure that your content is completely human readable and not just written for search engines.
Include your keyword in title, first sentence, last sentence and headers.
Your keyword density should not exceed 1-3% for any target page.
Optimise your meta information on every page you're targeting.
Do not link to external pages that are non-existent.
6. Google Business Page & Maps Listing
Nowadays, every business has a Google maps listing. You probably also own Google listing. Just search for your brand name and if you have it, it will appear on the right side of the search listing.
Your Google+ page is the foundation for your maps listing.
It is vital to have the same information on Google+ page and your website. This is referred to as NAP-W information which means Name, Address, Phone and Website.
Once you have ensured that the information is same on both platform, you can start creating listings on local directory websites.
For Local SEO, the accuracy of NAP-W information is the #1 factor.
The second component of a local pack (Maps listing in the search engine) is your reviews. Try to get most reviews on Google+ page from customers who love your services.
This way you will build authority and trust for other prospects and you will gain reputation.
7. Social Media Marketing
Every company relied on word-of-mouth advertising and personal referrals to boost business before the internet came into existence. Today, those businesses are being referred and talked on social networks.
So with correct social media marketing strategy, you'll have a better chance to reach those prospects online and showcase your best work to capture high quality leads to grow your business.
Depending on your niche and services, you decide which social networks would you want your home improvement business to be on. If you are an interior designer you need to showcase your past work – which can be done through Pinterest, Instagram or Facebook. Likewise, every business has to be on social media based on the work and what they need to showcase.
Having a presence on one social network isn't enough. You need multichannel marketing strategy in place to maximise your online reach.
Having multi-channel social networks will allow you to open up different channels of communication and also catching the attention of a majority of clients.
Share photos of your past work – that way you will educate and create interest. For home improvement professionals and contractors, photos are a great way of communication. Add interesting 'before and after' photographs to visualise how space got transformed.
8. Paid Ads
With correct strategy, you can boost your rankings and get visitors to your website organically. This process of rankings boost might take a little bit of training and time.
On the other hand, paid advertisement is the instant way to get customers. If you want a lead today, get onto paid ads. You can use Google Adwords or Facebook Ads to target your customers.
You need to decide the platform based on your niche. There are other platforms too for advertising such as LinkedIn, Twitter, Instagram, etc.
You can choose specific keywords to target and bid on them. Your ads will be triggered and shown based on the search term, your page relevance to chosen keyword and your bid.
You only pay when someone clicks on your ad making it a very cost effective way to get customers. But, if you do not put a hold on your budget, you can exhaust your money within days. You might need an experienced Adwords specialist to help you setup with your search engine marketing.
9. Reputation Management
Reputation management complements all the other types of marketing. If you have a strong reputation, then you can sell your products and services with ease. If you have a negative reputation, then you can have a hard time getting prospects. Negative reviews can be a major deterrent for potential customers.
When your customers leave reviews for your business online, then you need to respond timely to every review – good or bad.
Online reputation management can help you track your online presence. It is a way to ensure you get mostly positive reviews than negative.
10. Retargeting
Many customers research businesses online and can visit your website but do not purchase anything.
With retargeting, you can "follow" these customers with eye-catching adverts to encourage them to come back to your website to buy.
In the home improvement market, most customers research online and might come to your website. You have to decide whether you need to be with them at every stage of their research.
Retargeting will help you stay on their mind so they can come back to you instead of your competitor.
11. Blogging
It is true that blogging through a company website may not yield as much as you intend to. But there has to be a perception to help rather than just sell.
30% of the home improvement websites have a blog and out of those only 1% writes about customer-centric content.
Those who do blog, receive a massive 67% more leads from their website.
The internet has transformed our world in many ways. The way we now look at doing business has changed.
Earlier we used to rely on word of mouth and other offline marketing techniques to get the client. But, today online searchers have become our prospects. They search online and go through reviews and ratings before making a decision to buy.
Marketing home improvement business isn't easy and requires planning and effective execution.
Every aspect of marketing involves a series of steps and stages. We have to ensure each step is carefully taken care to woo customers in the best possible way.
We've been in this game. You can rely on us as we put all the aspects of marketing together and execute them on time.
Get in touch
We have certain criteria to accept clients and they are outlined below:
You have an established business.
You are in the business for at-least one year.
Your website is at-least one year old.
You are not getting enough business through online marketing efforts.
If your company fits in above criteria, then give us a call on 03 9568 1331 or fill this form, and we'll be in touch to get you started.